People in Transition, Ethiopians and the Principle of 3
What a great year so far in serving people around the Puget Sound and in Ethiopia!!
Our service to homeless men has provided hundreds of hours of bible studies, mentoring, resume development and finding employment.  Men range from fully functional with a divorce or job loss causing  homelessness to addiction and emotional problems-each with a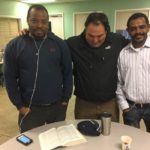 need.  We partner with Congregations for the Homeless (CFH).
Three of our men at Congregations for the Homeless
We serve in all three of CFH venues, an all year shelter, day center, and winter shelter (November to April). Our ministry will touch over 100 men this year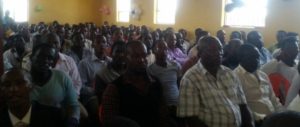 Worship in the Ethiopia Prison
God has given us the opportunity to work with the Ethiopian people in both Africa and in the Puget Sound area.  Our initiatives in Ethiopia include leadership training for a businessman/evangelist and a chaplain doing an amazing job in a federal prison.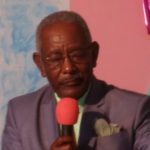 Chaplain Beza.  This month, our ministry has provided seed money (1/3) for library and meeting room now under construction.  A Korean Church will complete the project – a miracle.
In Seattle, our service is with the Medhane Alem Evangelical Church with 900 in attendance. We are privileged to work with administrator, Ethiopia, and the pastors as we assist with strategic planning and training.  There are 60,000 Ethiopians in the Puget Sound area. Ethiopia and church leaders bring professional and loving services, support and evangelism to the community.  Ethiopia and the church are touching hundreds of people monthly.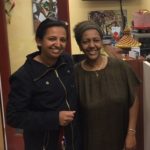 Ethiopia (L) and friend
Our ministry has brought decision making, reconciliation and support to men, women and couples during the year.  Using biblical principles as the backdrop, financial and career counsel, marriage and personal mentoring and significant life choices have been other elements of Living Perspectives services.
I have completed the Principle of 3 Journal capturing God's hand in my life for the last half century with both an adult and teen version.  The original intent was a legacy piece for my family illustrating God's love and miracles, and now  appears others want to review as well.  My verse of the month:  God has not given us a spirit of fear, but of power, love and sound mind. II Timothy 1:7