Yesterday's Tomorrow=Today
Today is one of four time zones: Yesterday, Today, Tomorrow and Eternity. Each of those days comes with a choice. As a follower of Jesus, I try to make choices within the framework of values He has established through His playbook the bible.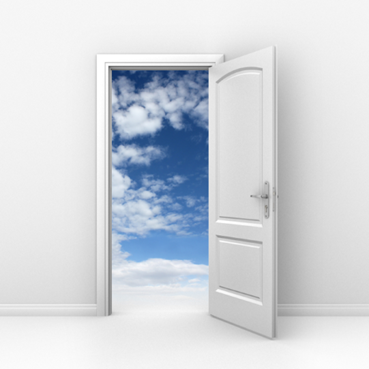 Each day I have a choice to open the White Door into the world that leads to a path of productivity, peace, joy, contentment, service and love. The victories, defeats, joy and sadness that came from Yesterday are stored in my brain along with God's framework for successful living. My choice daily is to submit to God my heart, mind, will, emotions and body to God's control. In so doing, I am prepared to engage Today regardless of what comes.
Also available for choosing each morning is the Dark Door with its sign, "Open at Your Own Risk." Choosing that door takes me back to the anxiety, anger, despair of Yesterday. In essence when opened, I limit my access to the power & wisdom of God.
What helps me to choose the White Door each morning: Pray & praise God; give thanks for being able to participate in Today; submission (above); and spend a few minutes in the Bible. For protection I pray Ephesians 6 putting on the full armor of God against Satan and worldly idols.
In my wallet I carry my membership card for the Second Thought Club for when I get angry, judgmental, discouraged or do something stupid and try to beat myself up. That second thought carries those Godly values and brings me back quickly to the White Door path. Each morning, as I walk through the White Door, I anticipate that God has a great plan for Today. Blessings.